Location:
Photographer:
Keywords:
Date:
Keywords:
Location:
Photographer:
Date:
Tue
1 Jul 2014
As a photographer, I'm used to being told that my days are numbered. The latest cameras have more and more automatic features and pretty soon you wont need to know anything about photography at all to take a great photograph, it will be something everyone can do.
click to load the rest of this article...
Mon
22 Jul 2013
Every
now
and
again
, a post pops up somewhere on the internet hailing the death of the SLR. Due to newer and more sophisticated compact cameras as well as the development of things such as compact system cameras (compacts with interchangeable lenses), the SLR no longer has a place in the world. SLRs are only being kept alive by old-fashioned photographers who refuse to give up on a technology that made sense in the days of film, but are no longer relevant in the digital age and these photographers will be pushed out of the frame by a new younger, more dynamic, more carefree generation of photographers (of the kind you see in camera adverts).
click to load the rest of this article...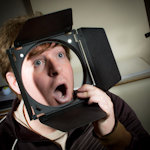 Articles about photography, tips and tricks, insights into the world of commercial photography and the marketing industry from a photographer's perspective, and the occasional humorous rant. Brought to you by
Will McAllister
, a commercial photographer based in God's own county of Cumbria.
PREVIOUS BLOG POSTS